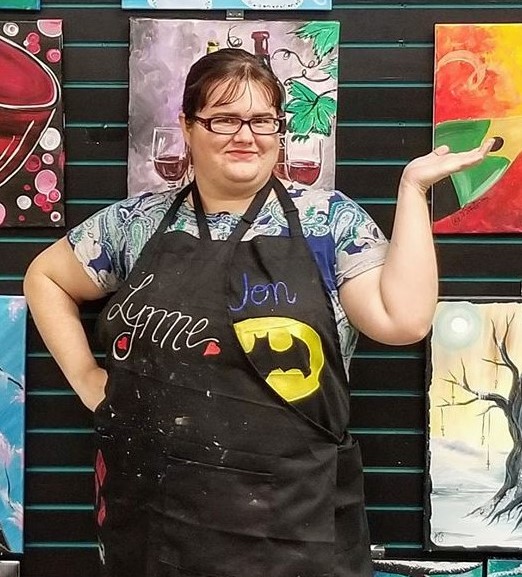 Lynne is a long-time student turned Studio Manager. She started attending classes in 2014 and became good friends with Rebecca. Lynne likes to remind students that she couldn't draw stick figures when she attended her first class, and now she teaches them! She is our official Queen of Paint Pouring. She teaches our paint pouring classes and she records her paint pours to create tutorials. You can visit our Facebook page to see some of her videos!
She is also a tech guru and has been keep up with our crazy computer stuff. If you've received a newsletter from us, or found us on social media, it's all her! One day she decided that she wanted to take the studio marketing on as a project, and we love the work she has done for us! She just kept taking on little projects for us and we decided to officially make her Studio Manager – she was doing the work anyway and deserved the new title.
Lynne is a die-hard nerd, and she's been creating new, pop culture related paintings like our Christmas TARDIS. She has plans for paintings based on Star Wars, Star Trek, Supernatural and other popular tv shows.
We're so happy to have her on staff!