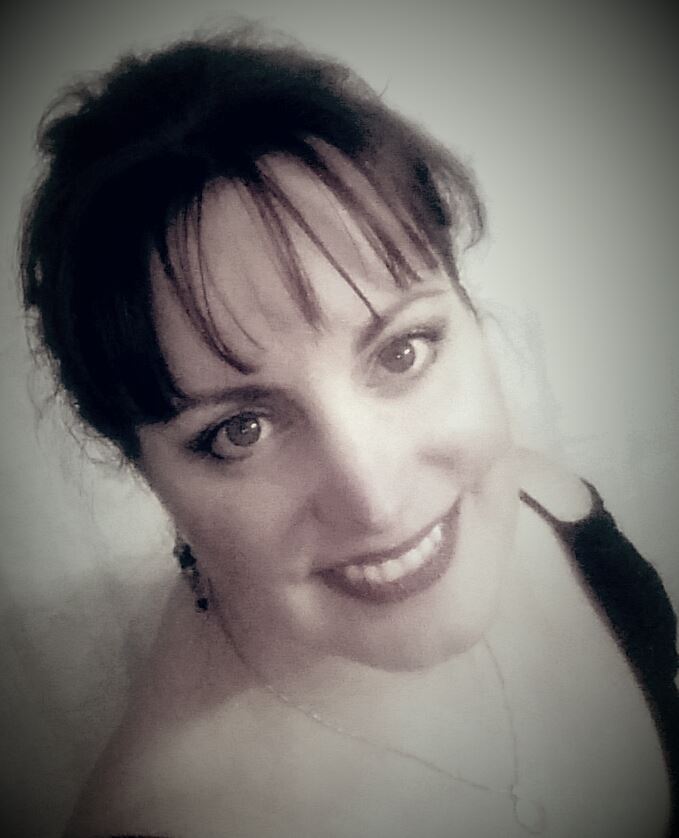 Rebecca Dyan Winters is the Owner and Operator of Art in the Vine.
Rebecca has always been a visual person. As a youngster of 7, she saw the turtle, the pirate and the parrot – a pseudo test for an on-line institute; she drew exact replicas of each. Rebecca later transposed those designs on to tiles completing her first ceramic tiles. At the age of 8, she submitted her first ceramic piece and was awarded the blue ribbon for her entry, an eye-glass hound dog holder using a dry brush technique. Rebecca competed in a class of kids ages 6 to 13.
Becca, as she is known to many, has worked in multiple mediums to include, canvas, ceramic, wood and pottery. She has thrown pots, made vases, dishes and cups, specializing in hand building pottery and masks. Her love remains painting and teaching.
Rebecca credits her middle school and high school teachers for hours of inspiration and guidance. They imparted their love of art to her and helped her develop her dreams. In particular, Rebecca gives thanks to Mrs. Walker and Coach Darby, her middle school and high school art teachers. Both pushed her always striving to bring out the best in her. Without their love and guidance, she may very well be doing something else. Certainly not as rewarding or as much FUN!
After graduating from Flour Bluff High School, Rebecca attended the University of North Texas where she majored in Art (also known as Visual Art Studies). Becca has experimented with many different styles and mediums of art and found that she really loves art in general. Painting is truly at the top of her list of favorites. Her minor in dance, brought her many hours of pleasure and enjoyment. She taught dance for about 6 years, simply another form of art and her tertiary minor in education prepared her for her present day career.
After graduating from UNT, Rebecca became a local middle school art teacher where she has been an Art Instructor for over twelve years. She works with and helps 12 to 17 year old students go from "I can't even draw a stick figure" to "Hey, I'm pretty good!"
During the summer in the early years of her teaching career, she taught at the Tarrant Community College gifted and talented summer program. She taught many things including fashion design, calligraphy and just for fun a mime class. Ask her to show you some of her miming skills. She really is talented.
Along the way, she has completed backdrops for the school's dances and for a local photographer, Chunky Monkey Photography. Great photo skills! In addition, Rebecca has painted murals in and on homes.
Painting murals has been a hobby of Rebecca's for over 6 years. While very pregnant with her first child, she painted a mural filling every wall of her baby's room. She had several friends ask for murals, paintings on furniture, designs for t-shirts, signs and many other projects. After creating art for friends and family for several years she started Winters' Murals and More. Rebecca still paints murals and simply creates art. Given her experience and enthusiasm for all things art, is it a surprise that Rebecca is now opening her own studio and hoping to pass on her knowledge and love to you?
Each artwork has been created with the idea of being an easy to follow piece of art for inexperienced or beginner painters. Of course the artworks will range from beginner to intermediate and advanced pieces so be sure to read the artwork description. The subjects of the works are often taken from nature and every day experiences. Occasionally there will be periods of pure whimsy.
Rebecca's unique set of skills and background in education are ideally suited to making your experience at Art in the Vine memorable and enjoyable. She looks forward to sharing her love of art with you!